Dean
This position has been filled
February 26, 2023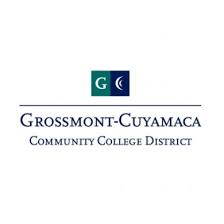 Website Grossmont/Cuyamaca Community College District
DEAN OF MATH, NATURAL SCIENCES, EXERCISE SCIENCE AND WELLNESS
R-01678
San Diego County – Grossmont College
Transforming lives through learning isn't just the vision of the Grossmont-Cuyamaca Community College District. It happens every day with our 30,000 students who take the first step in their higher education, become trained for a new career, or learn knowledge that transforms their world perspective.
The Grossmont-Cuyamaca Community College District honors a diverse academic community and fosters equity mindedness across our institutions. As such, the District is committed to eliminating achievement gaps among different student groups by promoting a culture of appreciation for diversity, equity, inclusivity, and social justice, and continuously examining our processes and practices through an equity lens.
The District provides an excellent health and welfare benefits package to its employees. We take care of our employees and have continued to offer medical, dental and vision coverage to eligible employees and their dependents at no charge for any of the plans we offer.
Become a part of this dedicated team in beautiful San Diego County!
Please read the entire job posting before your application is submitted. Important instructions to applicants are at the bottom of the page. Be attentive when applying as many of our positions require multiple attachments.
Please note: each page of the application will save upon clicking 'next.' Draft applications can be accessed through the candidate home page.
Job Summary
Application Deadline: Thursday, January 5, 2023 at 11:59 p.m.
NOTE: Application materials that are submitted on the last day of application and are timed out will not be accepted.
Department: Academic Affairs
Months worked out of the Year: 12 months
FTE: 1.0
Work hours: Monday – Friday, 8:00 a.m. – 5:00 p.m. (hours may vary)
Shift Differential: None
Starting Salary Range:
Range: MG-10: $118,523 (Step A) or $123,264 (Step B) or $128,195 (Step C)
Based on education and experience
Anticipated Start Date: March 2023
Job Description
Under the direction of the assigned manager, plan, organize, and direct the operations of a major instructional or student services division; supervise and evaluate the performance of certificated and classified personnel.
The following disciplines are within the Division of Mathematics, Natural Sciences, and Exercise Science/Wellness: Astronomy, Biological Sciences, Chemistry, Geography, Geology, Health Education, Mathematics, Oceanography, Exercise Science/Wellness, Physical Science, Physics, and Science. Managers will be expected to perform other duties consistent with their job description and assigned responsibility for programs offered by a college that is strongly committed to the community.
ESSENTIAL DUTIES AND RESPONSIBILITIES:
Manage, evaluate and coordinate academic subject areas and student services in accordance with legal requirements, district policies and sound instructional and student services principles and practices.
Establish overall goals, objectives and plans; initiate and participate in overall program planning; communicate statutes, district and college policies and philosophies to division staff.
Supervise and coordinate assigned curriculum planning and development; utilize available resources to develop new or revised curriculum; evaluate and recommend instructional materials, equipment and facilities.
Communicate and interpret program objectives and offerings to students, staff, faculty, community organizations and others.
Perform the hiring, evaluation and retention of assigned faculty and staff according to statutes and Governing Board policy; plan and coordinate orientation and in-service education for professional development of program faculty and staff.
Prepare faculty teaching assignments and schedules; assign certificated and classified staff to work areas, hours and duties; orient and assist new personnel as needed.
Prepare budgets and submit through appropriate channels for approval; monitor and control assigned program-operating budgets; initiate special fund requests; determine need and priority for capital equipment and materials.
Administer and implement district and college rules, regulations, policies and procedures; assist in implementing contract provisions negotiated by the Governing Board and recognized bargaining units representing employees.
Serve as a member of district, site or other committees and task forces.
Participate in public information activities to promote and publicize total instructional and student services programs; respond to inquiries regarding curriculum or course offerings and services provided.
Prepare catalog material, class schedules and other program information as required; recommend and implement new programs to enhance the college mission and enrollment.
Assure responsiveness of assigned special programs and student services functions to the overall needs of the campus, students, faculty and administrators.
Participate in the search, screen and selection process for contract employees.
Prepare reports and make presentations.
Coordinate and facilitate the resolution of student, instructor and staff conflicts and problems.
Perform related duties as assigned regarding assigned programs as necessary; coordinate programs with business, industry, community organizations and other educational institutions.
EDUCATION AND EXPERIENCE:
Any combination equivalent to: Master's degree from an accredited institution plus five years of achievement in management, supervision or leadership programs, departments or divisions within an institution of higher education, with emphasis in one or more of the areas to which the Dean position is assigned.
SPECIAL SKILLS AND REQUIREMENTS:
 In-depth knowledge of the Education Code, Title 5 and other administrative regulations and the ability to apply these regulations.
Sensitivity to all facets of the community including the needs of various groups which comprise it.
Ability to successfully delegate, ensure adherence to College and District policies, practices and procedures, hold others responsible yet instill confidence among the faculty and staff.
Ability to exercise academic leadership to advance the College's mission.
Facilitate communication and understanding of perspectives among faculty, staff, and students, within the framework of a multi-college district.
Commitment to the community college concept, including the open door philosophy and a diverse curriculum for a heterogeneous student population.
Ability to participate in the Community College planning process while participating in the achievement of the goals and priorities of the District as a whole.
Ability to work cooperatively and responsively with all segments of the College, District and community at large.
Facilitate communication and understanding, among faculty, staff, students, the community, within the framework of a multi-college district.
Dedication to keeping students informed while seeking their opinions and providing a range of student services.
Commitment to a comprehensive, student-oriented environment that facilitates learning and student development.
Ability to participate in the process, development, and achievement of the college vision, and communicate that to faculty and staff.
Ability to exercise strong, academic leadership to advance the College's mission.
Facilitate communication and understanding of perspectives among faculty, staff, students, and the community.
The above statements are intended to describe the general nature and level of work being performed by individuals assigned to this classification. They are not intended to be construed, as an exhaustive list of all responsibilities, duties and skills required of the classification.
Additional Information
SPECIAL INSTRUCTIONS TO APPLICANTS:
Applicants may find it helpful to refer back to the job posting, specifically the special instructions, while applying. Consider saving the job description or opening a new browser window.
*ATTENTION* Application materials with pictures or personal information will render your application incomplete. Please do not include any materials that were not asked for.
Having the following materials prepared and ready to attach BEFORE beginning the application may make the application experience more seamless.
REQUIRED APPLICATION DOCUMENTS (APPLICANTS MUST SUBMIT THE FOLLOWING THREE ITEMS):
A complete and current resume.
In a 1 – 2 page cover letter please highlight your skills and attributes as they relate to this position.
Copies of all college/university transcripts (official or unofficial) verifying degree(s).
*ATTENTION* Please upload .doc, .docx, or PDF files. If you are working on Google Docs or Mac files please be sure to save under .doc or PDF for file to upload correctly.
Under Federal Law, employers are required to verify that all new employees are eligible for employment in the United States. Prior to appointment to a position, you must present acceptable proof of your identity and authorization to work in the United States.
GCCCD is an Equal Employment Opportunity and Title IX employer.
Applicants who are protected under the Americans with Disabilities Act and who require accommodations for completing the application process or interviewing should notify the Human Resources Department by emailing mailto:D-HR-Jobs@gcccd.edu.
Offers of employment are contingent upon successful fingerprint clearance. A processing fee plus Live Scan fee will be required.
To apply, visit https://apptrkr.com/3668690.
The Grossmont-Cuyamaca Community College District, a two-college district in eastern San Diego County, has been providing a high-quality education to the region since Grossmont College opened its doors in 1961 and Cuyamaca College began operating in 1978. The district is tied closely to the suburban and rural communities that it serves, providing a $1 billion economic impact to the region through its payroll, purchasing, and spending by students and alumni.
The district has a strong commitment to diversity and equity with a student population representing a broad variety of backgrounds, ethnicities, socioeconomic levels, cultures and abilities. The district strives to provide an educational environment that fosters cultural awareness, mutual understanding, and respect that ultimately also benefits the global community.
The colleges offer more than 150 degrees and certificates in a wide range of programs. Both colleges have signature programs that have become well-renowned. Grossmont College is recognized for its top-notch Administration of Justice, Culinary Arts, Nursing and Allied Health and Theatre Arts programs, while Cuyamaca is known for its Automotive Technology, Ornamental Horticulture, Environmental Health and Safety and Water/Wastewater Technology programs.