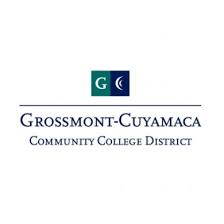 Website Grossmont/Cuyamaca Community College District
DEAN OF ARTS, LANGUAGES, AND COMMUNICATION
R-01552
San Diego County – Grossmont College
Transforming lives through learning isn't just the vision of the Grossmont-Cuyamaca Community College District. It happens every day with our 30,000 students who take the first step in their higher education, become trained for a new career, or learn knowledge that transforms their world perspective.
The Grossmont-Cuyamaca Community College District honors a diverse academic community and fosters equity mindedness across our institutions. As such, the District is committed to eliminating achievement gaps among different student groups by promoting a culture of appreciation for diversity, equity, inclusivity, and social justice, and continuously examining our processes and practices through an equity lens.
The District provides an excellent health and welfare benefits package to its employees. We take care of our employees and have continued to offer medical, dental and vision coverage to eligible employees and their dependents at no charge for any of the plans we offer.
Become a part of this dedicated team in beautiful San Diego County!
Please read the entire job posting before your application is submitted. Important instructions to applicants are at the bottom of the page. Be attentive when applying as many of our positions require multiple attachments.
Please note: each page of the application will save upon clicking 'next.' Draft applications can be accessed through the candidate home page.
Job Summary
Application Deadline: Monday, August 15, 2022 at 11:59 p.m.
NOTE: Application materials that are submitted on the last day of application and are timed out will not be accepted.
Department: Academic Affairs
Months worked out of the Year: 12 months
FTE: 1.0
Work hours: Monday – Friday, 8:00 a.m. – 5:00 p.m.
Shift Differential: None
Starting Salary Range:
Range: MG-10: $118,523 (Step A) or $123,264 (Step B) or $128,195 (Step C)
Based on education and experience
Anticipated Start Date: October 2022
Job Description
JOB PURPOSE:
It is the responsibility of the Dean, under the direction of the Vice President, to plan, organize, administer and direct the Division of Arts, Languages and Communication.
NATURE AND SCOPE OF POSITION
The Dean of Arts, Languages and Communication will lead and administer all aspects of the Division including the design, delivery, staffing, administrative support, supervision and evaluation of division programs, and support staff. Duties include overseeing the Performing and Visual Arts Center (PVAC) and Stagehouse Theatre programming (e.g., Dance, Music, and Theatre Arts); art gallery, Master classes in Music and Dance; campus newspaper; television and radio stations; studio arts labs (e.g., ceramics, sculpture, photography); speech, communication, and intercollegiate forensics; American Sign Language; and World Languages as well as any division related co-curricular activities.
GROSSMONT COLLEGE'S VISION, MISSION, AND VALUES
The ideal candidate will share Grossmont College's commitment to our Vision, Mission, and Values (see below), especially our commitment to working collaboratively to cultivate an equitable student-centered learning environment for our students whose backgrounds include a broad range of cultural, socioeconomic, genders, abilities, and orientations.
Vision: Empowered through a culture of inclusivity, Grossmont College strives to maintain our student-centered philosophy while working to support the ever-changing needs of our students. Along with ensuring student success, Grossmont College continues to advance our antiracism and equity work as we venture further into the 21st century.
Mission: Grossmont College serves the diverse population of our surrounding community and beyond by creating clear and accessible pathways to degrees and jobs leading to social and economic mobility for our students. We work collaboratively to cultivate an equitable student-centered learning environment, and we hold ourselves accountable for improving student outcomes through ongoing assessment, evaluation, and data-informed decision making. Grossmont College offers associate degrees; transfer preparation, including Associate Degrees for Transfer; certificate programs; career education and workforce development.
Values:
• Learning and Student Success
• Creativity and Innovation
• Pursuit of Excellence and Continuous Improvement
• Integrity
• Power of Diversity and Inclusion
• Civility
PREFERRED QUALIFICATIONS:
• Experience in administrating and promoting performing and visual arts programs is highly desirable.
• Experience in curriculum development, multiple source budget management, enrollment management and community outreach.
ESSENTIAL DUTIES AND RESPONSIBILITIES:
• Manage, evaluate and coordinate academic subject areas in accordance with legal requirements, district policies and educational principles and practices.
• Establish overall goals, objectives and plans; initiate and participate in overall program planning; communicate statutes, district and college policies and philosophies to division faculty and staff.
• Supervise and coordinate assigned curriculum planning and development; utilize available resources to develop new or revised curriculum; evaluate and recommend instructional materials, equipment and facilities.
• Communicate and interpret program objectives and offerings to students, staff, faculty, community organizations and others
• Perform the search/screen/selection, monitoring, evaluation and retention processes of assigned faculty and staff according to statutes and Governing Board Policy.
• Oversee faculty teaching assignments and schedules; assign certificated and classified staff to work areas, hours and duties; orient and assist new personnel as needed.
• Prepare budgets and submit through appropriate channels for approval; monitor and control assigned program operating budgets; initiate special fund requests; determine need and priority for capital equipment and materials.
• Administer and implement district rules, regulations, policies and procedures; assist in implementing contract provisions negotiated by the Governing Board and recognized bargaining units representing employees.
• Serve as a member of district, site or other councils, committees and task forces.
• Participate in public information activities to promote and publicize instructional programs; respond to inquiries regarding curriculum or course offerings and services provided.
• Prepare catalog material, class schedules and other program information as required; recommend and implement new programs to enhance the college mission and enrollment.
• Assist in coordination of programs with business, industry, community organizations and other educational institutions.
• Coordinate and facilitate the resolution of student, faculty, and staff conflicts and problems
• Prepare reports and make presentations
MINIMUM QUALIFICATIONS:
EDUCATION AND EXPERIENCE: Any combination equivalent to: A Master's Degree in any academic area from an accredited institution OR the equivalent and a minimum of one year of formal training, internship, or leadership experience reasonably related to the administrator's administrative assignment and one year of continuous achievement in management, supervision or leadership programs, departments or divisions within an institution of higher education or related field. Desired Qualification: Experience teaching in higher education in any of the following fields: ASL, Art, Humanities, Photography, Communication, Dance, MCOM, Music, Theater And World Languages.
Applicants must demonstrate sensitivity to, and understanding of, the diverse academic, socioeconomic, cultural, disability, and ethnic backgrounds of students.
SPECIAL SKILLS AND REQUIREMENTS:
• Ability to provide innovative leadership in the development of the college vision and articulate that vision to the College and District community.
• Ability to work cooperatively and responsively with all segments of the College, District and community at large.
• Facilitate communication and understanding among faculty, staff, students, the community within the framework of a multi-college district.
• Demonstrated sensitivity, knowledge, and understanding of the diverse academic, socioeconomic, gender, gender identity, cultural, disability, and other ethnic backgrounds of the students we serve and sensitivity to and knowledge and understanding of groups historically underrepresented, and groups who may have experience discrimination.
• Ability to exercise academic leadership to advance the College's mission.
• Commitment to the community college concept, including the open-door philosophy and a diverse curriculum for a heterogeneous student population.
• Commitment to a comprehensive, student-oriented environment that facilitates learning and student development.
• Dedication to keeping students informed while seeking their opinions and providing a range of student services.
• Dedication to the improvement of the educational process.
• Facilitate communication and understanding of perspectives among faculty, staff, students, the community, Chancellor, and Governing board within the framework of a multi-college district.
• Ability to communicate effectively, both orally and in writing.
• Ability to consistently perform duties with concern, courtesy, and respect for others, to employ a team approach through collaboration and empowerment of staff, to exhibit creativity and flexibility in a time of continuing change, and to seek solutions using an effective problem-solving technique.
• Sensitivity to all facets of the community including the needs of various groups which comprise it.
• Knowledge of the Education Code, Title 5, and other administrative regulations and the ability to apply these regulations.
• Coordinate and facilitate the resolution of student, instructor and staff conflicts and problems.
Additional Information
SPECIAL INSTRUCTIONS TO APPLICANTS:
Applicants may find it helpful to refer back to the job posting, specifically the special instructions, while applying. Consider saving the job description or opening a new browser window.
*ATTENTION* Application materials with pictures or personal information will render your application incomplete. Please do not include any materials that were not asked for.
Having the following materials prepared and ready to attach BEFORE beginning the application may make the application experience more seamless.
REQUIRED APPLICATION DOCUMENTS: Applicants must upload the following 3 items
1) A complete and current resume.
2) In a 1-3 page Letter of Application, please address the following:
• How do you meet the qualifications in the announcement?
• How do you practice equity-mindedness in your work?
• How do you promote an inclusive culture and build trust with your coworkers?
• What strengths would you bring to Grossmont College and the Arts, Languages and Communication division specifically?
3) Copies of all college/university transcripts (official or unofficial) verifying degree(s) and/or course work.
*ATTENTION* Please upload .doc, .docx, or PDF files. If you are working on Google Docs or Mac files please be sure to save under .doc or PDF for file to upload correctly.
Under Federal Law, employers are required to verify that all new employees are eligible for employment in the United States. Prior to appointment to a position, you must present acceptable proof of your identity and authorization to work in the United States.
GCCCD is an Equal Employment Opportunity and Title IX employer.
Applicants who are protected under the Americans with Disabilities Act and who require accommodations for completing the application process or interviewing should notify the Human Resources Department by calling (619) 644-7679.
Offers of employment are contingent upon successful fingerprint clearance. A processing fee plus Live Scan fee will be required.
To apply, visit https://apptrkr.com/3251291.
The Grossmont-Cuyamaca Community College District, a two-college district in eastern San Diego County, has been providing a high-quality education to the region since Grossmont College opened its doors in 1961 and Cuyamaca College began operating in 1978. The district is tied closely to the suburban and rural communities that it serves, providing a $1 billion economic impact to the region through its payroll, purchasing, and spending by students and alumni.
The district has a strong commitment to diversity and equity with a student population representing a broad variety of backgrounds, ethnicities, socioeconomic levels, cultures and abilities. The district strives to provide an educational environment that fosters cultural awareness, mutual understanding, and respect that ultimately also benefits the global community.
The colleges offer more than 150 degrees and certificates in a wide range of programs. Both colleges have signature programs that have become well-renowned. Grossmont College is recognized for its top-notch Administration of Justice, Culinary Arts, Nursing and Allied Health and Theatre Arts programs, while Cuyamaca is known for its Automotive Technology, Ornamental Horticulture, Environmental Health and Safety and Water/Wastewater Technology programs.