VP/VC Human Resources
April 11, 2023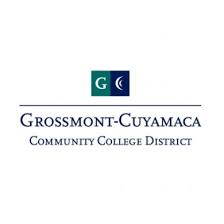 Website Grossmont/Cuyamaca Community College District
ASSOCIATE VICE CHANCELLOR, DISTRICT BUSINESS SERVICES – EXTENDED
R-01696
San Diego County – District Office
Transforming lives through learning isn't just the vision of the Grossmont-Cuyamaca Community College District. It happens every day with our 30,000 students who take the first step in their higher education, become trained for a new career, or learn knowledge that transforms their world perspective.
The Grossmont-Cuyamaca Community College District honors a diverse academic community and fosters equity mindedness across our institutions. As such, the District is committed to eliminating achievement gaps among different student groups by promoting a culture of appreciation for diversity, equity, inclusivity, and social justice, and continuously examining our processes and practices through an equity lens.
The District provides an excellent health and welfare benefits package to its employees. We take care of our employees and have continued to offer medical, dental and vision coverage to eligible employees and their dependents at no charge for any of the plans we offer.
Become a part of this dedicated team in beautiful San Diego County!
Please read the entire job posting before your application is submitted. Important instructions to applicants are at the bottom of the page. Be attentive when applying as many of our positions require multiple attachments.
Please note: each page of the application will save upon clicking 'next.' Draft applications can be accessed through the candidate home page.
Job Summary
Application Deadline: Thursday, January 19, 2023 at 11:59 p.m.
NOTE: Application materials that are submitted on the last day of application and are timed out will not be accepted.
Department: Budget and Administrative Services
Months worked out of the Year: 12 months
FTE: 1.0
Work hours: Monday – Friday, 8:00 a.m. – 5:00 p.m.
Shift Differential: None
Starting Salary Range:
Range: M-12: $11,977 (Step A) or $12,457 (Step B) or $12,955 (Step C)
Based on education and experience
Anticipated first level interviews: February 7th and 8th
Anticipated final interviews: February 13th, 14th and 16th
Anticipated Start Date: April 3, 2023
Job Description
JOB PURPOSE:
Under the direction of assigned supervisor, control, administer, coordinate, develop, and implement a financial management program to provide accountability for Districtwide accounting, cashiering, financial analysis, budget and compliance. In addition, direct and supervise all work in connection with Districtwide budget, financial audits and fiscal reporting. Serve as a member of the District labor negotiations team.
ESSENTIAL DUTIES AND RESPONSIBILITIES:
Direct, administer, manage, instruct, and evaluate the work and personnel of the functional units of Budget and Administrative Services that oversee management and integrity of all financial resources of the District.
Coordinate the development of District Budget including revenue estimates, forecasting expenditures and student enrollments.
Direct the preparation of periodic financial reports for the District and Governing Board. Supervise the preparation of special financial or statistical research or analytical studies to assist the administration in the formulation of new policies in planning of new or revised programs; and attend Board meetings as required.
Direct the preparation and on-going oversight and accountability of the District Services business operations, including the annual budget and financial reporting.
Develop, coordinate, and participate in oversight of computerized financial system framework and modification.
Serve as a member of the District's labor negotiations team. Prepare materials for use in labor negotiations.
Coordinate all financial strategies and procurements, including, bond issuances, negotiate banking relationships, armor car contracts, and audit contracts; and participate in the development and review of district financial agreements.
Manage District cash flow within the District's investment policy and procedures to ensure adequate liquid assets and maximum investment return on District funds.
Direct and assure the timely preparation, maintenance, submission, and distribution of reports, records, and questionnaires as required by federal, state, local, and district regulations.
Confer with other District administrative personnel and make decisions on actions implementing District policy, and internal controls.
Organize and meet with staff to plan, develop, and implement effective programs and support services in assigned areas of responsibilities.
Supervise and perform advanced professional accounting, accounting technology, statistical, and auditing work involving the establishment, maintenance, and interpretation of interrelated financial policies and procedures.
Consult with individual colleges and other governmental agencies; coordinate, review and process non-personnel contracts for the District, such as facility, equipment, and inter-district contracts.
Consult with other District and college administrators, staff, and agencies and direct the appropriate handling of unusual financial problems or deviations from policy.
In the absence of the Vice Chancellor, participate in Chancellor's Cabinet or other meetings to advise and communicate Districtwide financial and/or budgetary issues.
Provide direction and oversight for all Districtwide grants and categorical programs, including reporting, collections and fiscal impact.
Perform other related duties as assigned.
EDUCATION:
Any combination of training and experience equivalent to: a master's degree or equivalent degree from an accredited college or university with a major in accounting, finance, business or public administration or related business field. CPA or MBA preferred.
EXPERIENCE:
Eight to ten years of increasingly responsible, directly-related experience in fund accounting or closely-related functions, including at least five years in a progressively higher-level management/supervisory capacity, preferably in an educational or other public agency. Experience in computerized financial and accounting systems.
SPECIAL SKILLS & REQUIREMENTS:
Principles, practices, policies, and procedures used in professional accounting and auditing work, particularly pertaining to financial analysis and research procedures.
Principles, methods, and procedures related to revenue collection and cashiering.
Advanced level of knowledge in financial accounting, budget and forecasting.
Laws, regulations, and policies governing the fiscal requirements of various state and federal agencies.
Principles and techniques of management organization, training, and supervision.
State, federal, and local law and policies related to finance.
Ability to work cooperatively and responsively with all segments of the Colleges and the District.
Sensitivity to all facets of the community including the needs of various groups, which comprise it.
Facilitate communication and understanding of perspectives among faculty, staff, students, the community, Chancellor, and Governing Board within the framework of a multi-college district.
Ability to gain an in-depth knowledge of the Education Code, Title 5 and other administrative regulations and the ability to apply these regulations.
Technical aspects of field of specialty.
Ability to successfully delegate, ensure adherence to District policies, practices and procedures, hold others responsible yet instill confidence among the faculty and staff.
Ability to exercise fiscal leadership to advance the District's and colleges' missions.
Ability to participate in the planning process while participating in the achievement of the goals and priorities of the District as a whole.
Ability to participate in the process, development, and achievement of the district vision, and communicate that to faculty and staff.
Read, interpret, apply and explain complex laws, regulations, requirements, policies and procedures.
Interpersonal skills using tact, patience, and courtesy.
Knowledge of business and contract law.
District organization, operations, policies, and objectives.
Ability to provide innovative leadership and direction to the District staff while participating in the achievement of the goals and priorities of the District as a whole.
Ability to prepare materials and strategies as a member of the labor negotiations team.
Commitment to the community college concept, including the open door philosophy and a diverse student population.
Commitment to a comprehensive, student-oriented environment that facilitates learning and student development.
Dedication to the improvement of the educational process.
Dedication to keeping students informed while seeking their opinions and providing a range of student services.
Additional Information
SPECIAL INSTRUCTIONS TO APPLICANTS:
Applicants may find it helpful to refer back to the job posting, specifically the special instructions, while applying. Consider saving the job description or opening a new browser window.
*ATTENTION* Application materials with pictures or personal information will render your application incomplete. Please do not include any materials that were not asked for.
Having the following materials prepared and ready to attach BEFORE beginning the application may make the application experience more seamless.
REQUIRED APPLICATION DOCUMENTS (APPLICANTS MUST SUBMIT THE FOLLOWING TWO ITEMS):
A complete and current resume.
In a 1-3 page cover letter, please tell us about your background and how you meet the qualifications of this positions. Please also address the following 2 items:
• How do you exemplify an inclusive culture and build trust with your coworkers while maintaining mutual respect?
• Mission and Vision Statement: The Grossmont-Cuyamaca Community College District provides high-quality, equitable learning opportunities to eastern San Diego County and beyond. We prepare students to meet changing community and workforce needs, while advancing social justice and economic mobility. Our current mission and vision statement focuses on equity and social justice. What are your personal and professional experiences related to these areas.
*ATTENTION* Please upload .doc, .docx, or PDF files. If you are working on Google Docs or Mac files please be sure to save under .doc or PDF for file to upload correctly.
Under Federal Law, employers are required to verify that all new employees are eligible for employment in the United States. Prior to appointment to a position, you must present acceptable proof of your identity and authorization to work in the United States.
GCCCD is an Equal Employment Opportunity and Title IX employer.
Applicants who are protected under the Americans with Disabilities Act and who require accommodations for completing the application process or interviewing should notify the Human Resources Department by emailing D-HR-Jobs@gcccd.edu.
Offers of employment are contingent upon successful fingerprint clearance. A processing fee plus Live Scan fee will be required.
To apply, visit https://apptrkr.com/3794314.
The Grossmont-Cuyamaca Community College District, a two-college district in eastern San Diego County, has been providing a high-quality education to the region since Grossmont College opened its doors in 1961 and Cuyamaca College began operating in 1978. The district is tied closely to the suburban and rural communities that it serves, providing a $1 billion economic impact to the region through its payroll, purchasing, and spending by students and alumni.
The district has a strong commitment to diversity and equity with a student population representing a broad variety of backgrounds, ethnicities, socioeconomic levels, cultures and abilities. The district strives to provide an educational environment that fosters cultural awareness, mutual understanding, and respect that ultimately also benefits the global community.
The colleges offer more than 150 degrees and certificates in a wide range of programs. Both colleges have signature programs that have become well-renowned. Grossmont College is recognized for its top-notch Administration of Justice, Culinary Arts, Nursing and Allied Health and Theatre Arts programs, while Cuyamaca is known for its Automotive Technology, Ornamental Horticulture, Environmental Health and Safety and Water/Wastewater Technology programs.