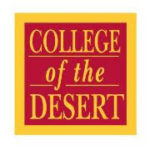 Website College of the Desert
Director of Development, Foundation
Job Type: Leadership
Department: Foundation
Basic Function:
The Director of Fund Development, Annual Giving and Memberships is responsible for developing and implementing the development strategy for annual giving, the year end-giving campaign, memberships in Foundation organizations, and the Scholarship program. Reporting to the Executive Director of the College of the Desert (COD) Foundation, the Director is responsible for achieving fundraising goals of the Foundation. The responsibilities include planning and implementing membership drives, business and corporate fund development, fundraising events, campus tours, solicitation of major gifts, and the administration of all membership programs and scholarships.
EMPLOYMENT STATUS: Classified Administrator
Leadership Salary Schedule: Row XI
For more information about College of the Desert, click here.
Click here to read President's Message.
The Community – Coachella Valley
Representative Duties:
1. Provide leadership and management of the direction, planning and execution of all membership programs.
2. Plan, develop and execute strategies for obtaining donations. Identify, cultivate, and solicit prospective donors (individuals, corporations and foundations).
3. Develop and implement business development strategies to achieve fund development.
4. Manage and execute annual and special fund campaigns.
5. Plan and execute annual year end fund drive.
6. Manage annual and special fund campaigns.
7. Plan, coordinate and implement benefit events for fund development.
8. Solicit pledges for funds from corporations and foundations.
9. Provide staff support to the Foundation Board and appointed committees working with fund development.
10. Solicit funding for scholarships and administer the scholarship program. Coordinate with college departments and staff, and implement donor-recipient recognition program.
11. Advise and consult with the Executive Director on all fundraising related activities.
12. Coordinates and implements campus tour program.
13. Perform other duties as assigned.
Minimum Qualifications:
Any combination equivalent to: Bachelor's degree in business, communications, marketing or related field and (5) five years of progressively responsible experience in development, including experience in marketing and/or public and community relations. Must demonstrate track record of achieving revenue targets and /or a quota of over $1 million annually.
Preferred Qualifications:
Three to five years of direct sales, marketing, business development experience in a service industry or with a non-profit. Previous experience working with a planned giving program.
Knowledge of:
Principles and practices of effective fund development strategies; professional ethical standards and practices as identified and agreed to by the National Society of Fund Raising Executives and the National Committee on Planned Giving; the philosophy of community colleges; organization and confidential management of donor record, interpersonal skills using tact, patience and courtesy; partnership-building and event planning; all components of a diversified funding base; Microsoft computer applications and data base programs; strong verbal and written skills to communicate clearly and persuasively; exceptional interpersonal skills with the ability and personality to work collaboratively, accept responsibility, motivate colleagues, volunteers and donors.
Ability to:
Organize fundraising activities effectively, prioritize prospects, and participate in the solicitation of major gifts and donations; prospects, cultivate and manage new accounts; make effective public presentations to large community groups, organizations and governing boards and commissions; establish and maintain effective relationships with persons from diverse backgrounds; solicit large donations via one-on-one solicitation to major donors; lead and work with Board members, committees and colleagues; possess a high energy, positive, "can-do" attitude, flexibility, teamwork, and attention to detail; maintain a high degree of initiative.
Physical Demands:
Working Conditions: Environment: Office environment. Constant interruptions. Driving a vehicle to conduct work as necessary. Requires some evening and weekend responsibility.
Full Time/Part Time: Full Time
Weekly Working Hours: 40
Work Schedule & Hours: Monday, Tuesday, Wednesday, Thursday, Friday – 8am – 5pm
Salary Schedule Range: $125,836.08 – $182,229.00 annually: Leadership, Range XI
Specific Departmental Needs:
Posting Number: 23-032
Number of Vacancies: 1
Desired Start Date:
Interview Date: 06/06/2023
Posting Open Date: 03/31/2023
Posting Close Date: 6/18/2023
Open Until Filled: No
Special Instructions to Applicants:
REQUIRED REFERENCES: Professional References should include at least: 2 supervisors, 2 direct reports, 2 management level colleagues, 2 faculty. Include name, title, relationship and current phone numbers. Applicants from sectors other than education should submit comparable references.
REQUIRED DOCUMENTS:
Resume: Must include length of employment (month/year start & end dates) for each employer.
Cover Letter: Please address how you meet the minimum requirements for this position and any special qualifications you possess.
College Transcripts: For consideration of college coursework, transcripts must be attached. Transcripts must be from an accredited institution and include institution name, degree awarded, and date degree awarded. Diplomas will not be accepted in lieu of transcripts.
TIMELINES: For consideration, complete qualifying applications must be received by Sunday, June 18, 2023.
Interviews are tentatively scheduled for Thursday, June 6, 2023.
To apply, visit https://cod.peopleadmin.com/postings/6800