CEO/Chancellor
July 1, 2021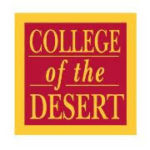 Website College of the Desert
Superintendent/President
Job Type: Full Time
Basic Function
The Superintendent/President is hired by and reports to the Board of Trustees. Under the direction of the Board, he/she has responsibility and authority for the general oversight of the entire District and its staff within the District's established policy framework. The Superintendent/President is directly responsible for recommending policies to the Board for the consideration and adoption. Within this framework, he/she has primary responsibility for the development of the District Mission and for the efficient and effective fulfillment of the Mission in all aspects of the organization. The Superintendent/President serves as the Chief Executive Officer of the District and Secretary of the Governing Board. All powers and duties which may lawfully be delegated to the Superintendent/President are to be performed and executed in accordance with the policies adopted by the Governing Board.
Representative Duties:
Representative Duties / Essential Functions
1. Provide leadership in institutional planning and development in response to changing social, legal, technological, community and student needs.
2. Provide for: the planning, organization, and functioning of the management of the District, preparation of a detailed budget for Board review and approval, development of all policy, development and implementation of a District Master Plan, as well as the overall organizational effectiveness of the District.
3. Act as professional advisor to the Board and give written and oral recommendations on all significant organizational issues for Board review on a regular basis and report formally at each meeting of the Governing Board.
4. Develop and maintain effective relationships with College faculty, administrators and staff as appropriate to assigned duties.
5. Develop the overall resource development agenda for the District including fund raising, grant development, and partnership with local, state and national entities.
6. Recommend the organizational structure for the district, the staffing complement, the classification of positions, and the compensation for positions. Implement these actions when approved by the Governing Board.
7. Represent the District to the community-at-large and more specifically to district businesses and organizations; to governing and decision-making bodies at the local, state, and federal level; and to professional and Board of Governor events as needed.
8. Provide leadership in maintaining accreditation with appropriate agencies and associations.
9. Direct and implement rules for student safety, health, discipline, and conduct.
10. Interpret the District's plan, policies, and programs to the citizens of the Desert Community College District and assure that the District maintains a high-quality community relations program. Establish and maintain an effective program of public relations.
11. Evaluate the institutional effectiveness of the College, ensuring an appropriate balance of uses of technology and human resources to maximize both cost effectiveness and quality.
12. Directly supervise executive level staff and areas including institutional research, technology, and community relations.
13. Serve as District and community resource regarding educational issues.
14. Serve or designate as District representatives to the Boards of: C.O.D. Alumni Association, C.O.D. Foundation, and the McCallum Theatre.
Other Functions
15. Perform other duties as directed by the Board of Trustees.
Required Proficiencies
Knowledge, experience and abilities to perform the above listed responsibilities and functions in an efficient, effective, harmonious manner.
Minimum Qualifications:
• Possession of a Master's degree
• Five (5) years of senior management experience with significant decision-making responsibility.
Preferred Qualifications:
DESIRED:
• More than five years of experience in a senior management executive-level position
• An understanding of and commitment to serving in the Coachella Valley region
• Experience as a college faculty member
• Doctorate degree from an accredited institution
• Bilingual Spanish
Knowledge of:
Knowledge and Abilities
Sensitivity to and understanding of the diverse academic, socio-economic, cultural, disability, and ethnic backgrounds of California Community college students; knowledge of, and commitment to occupational, academic transfer, and basic skills educational programs; knowledge of student support services and programs; demonstrated success in fiscal and organizational management; promotion and facilitation of shared governance, collegiality and respect among all college constituencies; demonstrated leadership ability in assessment and becoming a learning centered college; principles, theories, practices, methods, and procedures of public administration specifically related to higher education; principles and practices of effective executive leadership; knowledge of and support for innovative technology, including integrating technological advancements both academically and administratively; development and maintenance of partnerships with educational, business, industry, government, auxiliary and other community organizations, utilization of effective oral and written communication skills; demonstrate ability to serve as an effective leadership team member.
Ability to:
Physical Demands:
Working Conditions: Working Environment
Office environment. Constant interruptions. Driving a vehicle to conduct work as necessary. Requires some evening and weekend responsibility.
Full Time/Part Time: Full Time
Weekly Working Hours: 40
Work Schedule & Hours: Monday, Tuesday, Wednesday, Thursday, Friday – 8:00 am – 5:00 pm
Salary Schedule Range: This is a contract position. Salary is competitive and negotiable.
Specific Departmental Needs:
Posting Number: 20-048
Number of Vacancies: 1
Desired Start Date:
Interview Date: 06/14/2021
Posting Open Date: 03/19/2021
Posting Close Date:
Open Until Filled: Yes
Special Instructions to Applicants:
BEFORE YOU APPLY:
You are encouraged to review the Superintendent/President Position Announcement before completing your application:
http://www.collegeofthedesert.edu/president/Documents/COD-President-Job-Announcement.pdf
REQUIRED REFERENCES:
Professional References should include at least:
• One trustee
• One supervisor
• One direct administrative report
• One faculty member
• One staff member
• One student
• One community/external agency representative.
Include name, title, relationship and current phone numbers.
REQUIRED DOCUMENTS:
• Resume: Must include length of employment (month/year start & end dates) for each employer.
• Cover Letter/Letter of Application: Please include a letter of application, not exceeding 5 pages, that succinctly addresses:
a. The key abilities, experience and expertise of exceptional community college leaders
b. The personal qualities and professional qualifications in the position announcement
c. How the candidate is prepared to serve the needs of College of the Desert
• College Transcripts:
Official or unofficial transcripts must be attached to you application. Transcripts must be from an accredited institution and include institution name, degree awarded, and date degree awarded. Diplomas will not be accepted in lieu of the required transcripts. Please combine all transcripts/certificates into one file.
TIMELINES:
• Apply by May 19, 2021.
• The position is open until filled, but to be considered for an interview with the District Search Committee, applications must be received by May 19, 2021.
• Interviews are tentatively scheduled for June 14th through 16th.
• The intent is to have the new President in office no later than August 2021.
To apply, visit https://apptrkr.com/2199777