Director
December 9, 2021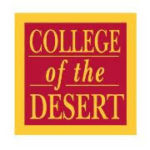 Website College of the Desert
Director, Talent Search Grant Program
Job Type: Leadership
Department: Office of Student Services Dept
Basic Function:
THIS POSITION IS CATEGORICALLY FUNDED AND EXISTS BASED ON THE AVAILABILITY OF FUNDS. IF FUNDS CEASE TO BE AVAILABLE, THE DISTRICT MAY, AT ITS DISCRETION, IMPLEMENT A REDUCTION IN FORCE THAT COULD RESULT IN THE ELIMINATION OF THE POSITION.
Under the direction of the Dean of Counseling Services, the Director, Talent Search Grant Program is responsible for the administration of the federally funded educational opportunity program for low-income, first-generation students from middle and high schools. The Talent Search Program provides support services to successfully retain students through high school graduation and postsecondary enrollment. Leadership will include the supervision of program staff, program expenditures, budget management, and campus facilities for the Talent Search Program. The Director, Talent Search Grant Program will administer projects throughout the district by consistently coordinating, updating, and revising the program to assure compliance with federal regulations.
Representative Duties:
Essential Functions
Responsible for overall administration and implementation of the Talent Search Program;
Directly supervises program staff;
Prepares continuation grant proposals and annual budget;
Compiles semi-annual, annual, and other program reports;
C

onducts project evaluation;

Monitors compliance with all Talent Search Program regulations and legislation;
Monitors and administers program budget to guarantee adherence to U.S. Department of Education and district requirements;
Develops and maintains electronic student database system;
Identifies, recruits, and selects project participants, and determines eligibility for services;
Organizes and conducts in-service training of professionals and other staff;
Designs and implements program staff development activities;
Develops Talent Search Program manual of policies, procedures, forms, and community contracts;
Defines and directs work of peer mentors and tutors;
Disseminates program information to students, families, college staff, and the community;
Maintains communication with middle and high school principals and counselors, district counseling faculty, district administrators, community agency representatives, and colleagues at other colleges to ensure that enhanced services are made available to all program participants;
Regularly participates in district committees and Student Success division and other administrative meetings;
Represents the program and serves as an advocate for needs of disadvantaged students;
Coordinates with other state and regional Talent Search Programs; and
Performs other duties as assigned.
Minimum Qualifications:
Education and Experience
Bachelor's degree required in counseling, rehabilitation counseling, clinical psychology, counseling psychology, guidance counseling, educational counseling, social work, or career development or a California License in Marriage, Family, and Child Counseling (LMFCC), or the equivalent, AND
One (1) year of formal training, internship, or leadership experience reasonably related to the administrator's administrative assignment, AND
Two (2) years of academic advising, counseling, supplemental instruction, and/or teaching experience, especially with students from diverse backgrounds, AND
A demonstrated sensitivity to, respect for, and understanding of the needs of economically and educationally disadvantaged populations is required.
Preferred Qualifications:
Desired Qualifications
Master's degree in counseling, rehabilitation counseling, clinical psychology, counseling psychology, guidance counseling, educational counseling, social work, or career development from an accredited college or university or equivalent foreign degree
Experience in designing and implementing comprehensive educational programs
Experience with an educational equity program
Experience in effectively handling interpersonal crisis situations
Experience supervising and evaluating employees
Successful grant-writing experience

Effective oral and written communication skills

Demonstrated ability to manage financial resources with a record of fiscal responsibility and accountability
Demonstrated advocacy for students and students' needs
Knowledge of:
Talent Search Programs; educational advising; college survival; student development and learning theory; impact of culture on learning, learning styles, and strategies; peer training and tutoring processes; correct English and Spanish usage, grammar, spelling, punctuation, and vocabulary; computer and data collection; program reporting; interpersonal communication; various computer software, including Microsoft Office Suite.
Ability to:
Counsel and advise youth; organize, administer, and supervise a program; manage a budget.
Physical Demands:
Working Conditions Environment: Office environment. Constant interruptions. Driving a vehicle to conduct work as necessary. Frequent outreach activities at middle schools and other locations. Requires evening and weekend responsibility and travel to local and regional sites.
Full Time/Part Time: Full Time
Weekly Working Hours: 40
Work Schedule & Hours: Monday, Tuesday, Wednesday, Thursday, Friday
Salary Schedule Range: Classified Leadership Salary Schedule, Range VII
Specific Departmental Needs:
Posting Number: 21-112
Number of Vacancies: 1
Desired Start Date:
Interview Date: 01/10/2022
Posting Open Date: 11/18/2021
Posting Close Date: 12/9/2021
Open Until Filled: No
Special Instructions to Applicants:
Special Instructions
REQUIRED ATTACHMENTS: Applications missing any of the required documents listed will not be considered. The following documents are required at the time of application:
Online Application: Please fill out your online application completely with all requested details.
Resume or Curriculum Vitae (CV): Must include length of employment (month/year start & end dates) for each employer.
Cover Letter: Please address how you meet the minimum requirements for this position and any special qualifications you possess.
Unofficial Transcripts: Must be from an accredited institution, show name of institution, degree awarded, discipline, and date awarded. Diplomas will not be accepted in lieu of the required transcripts.
IN YOUR APPLICATION
List of Professional References: Professional References should include at least: 2 supervisors, 2 direct reports, 2 management level colleagues. Include name, title, relationship, and current phone numbers. Applicants from sectors other than education should submit comparable references. Letters of Recommendation will not be accepted in lieu of the List of Professional References in your application.
INTERVIEWS: Interviews are tentatively scheduled for the week of January 10, 2022.
To apply, visit https://apptrkr.com/2652729