Director
September 26, 2021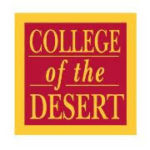 Website College of the Desert
Director, Nursing & Allied Health
BASIC FUNCTION
The Director, Nursing and Allied Health is a Educational Administrator as designated by the Board of Trustees of the Desert Community College District. The Director is charged by the Board of Trustees with the satisfactory implementation of Board policy and district or college procedures as applicable to the position. In addition, the Director is expected to make appropriate recommendations for modifications, additions or deletions in policy and/or through the appropriate authority. Under the direction of the Dean, Health Sciences and Early Childhood Education, coordinate and supervise the administration of the nursing programs. Develop, direct, manage and evaluate the instructional programs and faculty in the nursing programs.
EMPLOYMENT STATUS
Educational Administrator
Leadership Range: X
REPRESENTATIVE DUTIES
Essential Duties
Collaborate with the faculty for the development, organization and operation of the nursing program. Work for the improvement of the nursing program through study, analysis and planning. Work with the faculty in the development and consistent implementation of program policies for faculty and students.
Maintain the Registered Nursing Program accreditation, including the submission of required documents for Board of Registered Nursing (B.R.N.) and National League of Nursing accreditation (NLNAC). Provide leadership in the process of accreditation and the preparation of reports for accreditation/approval visits, program review process, and annual reports to licensing agencies.
Secure and hire nursing faculty in consultation with the faculty. Secure substitute instructors in accordance with college policy.
Recommend teaching assignments in collaboration with faculty with final approval by the Dean.
Arrange for the use of off-site facilities for clinical instruction. Negotiate, administer and supervise compliance with contractual agreement with agencies used for student clinical placements. Maintain contractual relationships and obligations with local health organizations.
Provide leadership in curriculum development and improvement, regular review, evaluation and revision for currency and relevance. Review instructional programs for compliance with applicable state and federal law, regulations and guidelines, District policy and procedure, B.R.N. rules, and responsiveness to the needs of the local community.
Provide leadership in promoting nursing programs and recruiting a qualified pool of student applicants. Implement student selection and admission policies and procedures.
Enforce student discipline, maintain related records; provide direction to students regarding licensure examination; develop studies tracking student program graduates, analyze results, and implement program modifications to improve performance.
Prepare, submit, and administer a timely and accurate department budget. Recommend the purchase of supplies and equipment for the nursing program.
Serve as a mediator in problems involving students, faculty and staff.
Promote collaboration with other schools of nursing and the health care community in the development of partnerships. Promote, publicize and represent the Registered Nursing program. Call, attend and preside at nursing advisory committee meetings.
Facilitate faculty, staff and student acquisition of new technologies in the classroom and workplace.
Call meetings of the nursing staff as needed. Serve as a liaison between nursing faculty and the administration.
Other Duties
Attend and participate in professional conferences and meetings.
Assist faculty in planning and organizing in-service educational programs.
Other duties and responsibilities as assigned.
Minimum Qualifications:
MINIMUM QUALIFICATIONS
Possession of a Master's or higher degree from an accredited college or university in nursing, education or administration;
One year experience in an administrative position;
Two years experience teaching in pre- or post licensure nursing programs; one year experience as a registered nurse providing direct patient care and/or the equivalent as determined by the Board of Registered Nursing.
Hold or be eligible for California State licensure as a Registered Nurse.
Hold a valid California driver's license with an acceptable driving record and qualify for insurability by the District's insurance carrier.
Sensitivity to and understanding of the diverse academic, socioeconomic, cultural, disability, and ethnic backgrounds of community college students.
Degrees earned outside of the U.S. require that a Foreign Transcript Evaluation. https://www.collegeofthedesert.edu/faculty-staff/human-resources/ftes.php
Preferred Qualifications:
Knowledge of:
California State Board of Nursing regulations; National League for Nursing accreditation standards; California State Board of Vocational Nursing regulations; current nursing educational trends; diverse nursing career pathways; relevant California Education Code and Title V regulations; healthcare industry trends and needs; and policies and procedures appropriate to the administration of nursing programs within a community college setting.
Ability to:
Advise students with diverse academic backgrounds; implement, monitor and evaluate program compliance with state, regional and/or national regulations and/or standards; establish and maintain effective and harmonious working relationships with a diverse population of students, staff and community; communicate effectively both orally and in writing; implement and modify curricula in response to changing health care needs to maintain effective programs; and serve as an effective leadership team member.
Physical Demands:
Working Conditions: WORKING CONDITIONS
Environment: Office and local community health care facilities. Constant interruptions. Driving a vehicle to conduct work. Requires some evening and weekend duty.
Full Time/Part Time: Full Time
Weekly Working Hours: 40
Work Schedule & Hours:
Salary Schedule Range: Leadership Range X
Specific Departmental Needs:
Posting Number: 21-068
Number of Vacancies:
Desired Start Date:
Interview Date: 10/26/2021
Posting Open Date: 07/26/2021
Posting Close Date:
Open Until Filled: No
Special Instructions to Applicants:
Special Instructions REQUIRED ATTACHMENTS:
Applications missing any of the required documents listed will not be considered. The following documents are required at the time of application:
• Online Application: Please fill out your online application completely with all requested details.
• Resume or Curriculum Vitae (CV): Must include length of employment (month/year start & end dates) for each employer.
• Cover Letter: Please address how you meet the minimum requirements for this position and any special qualifications you possess.
• Unofficial Transcripts: Must be from an accredited institution, show name of institution, degree awarded, discipline, and date awarded. Diplomas will not be accepted in lieu of the required transcripts.
IN YOUR APPLICATION
• List of Professional References: References should include at least two current or previous supervisors, two faculty members, and two other references not related to the applicant (including classified support staff). Please include names, e-mail addresses and current telephone numbers for each professional reference in your application. Applicants from sectors other than higher education should submit comparable references. Letters of reference will not be accepted in lieu of the required List of Professional References.
To apply, visit https://apptrkr.com/2395262